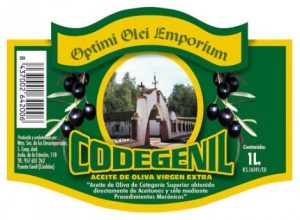 The Agricultural Cooperative Olivarera Our Lady of the Abandoned was founded in 1958 in the town of Puente Genil and began his work olive oil manufacturer. Over time this cooperative became the first in Spain by volume milling (reaching a peak production of 36 million kilos of olives).
In 2005, a movement with a complete modernization of its facilities by providing them with the latest technology available in the market. The cooperative takes two production activities: the manufacture of olive oil and table olive production. Besides these products offers its members a wide range of services: implementation of the single payment aid, diesel pump A and B, farm advice, conducting insurance etc..
In the case of oil production, olives collected from holdings of its members and its facilities is performed milling olives, oil production and subsequent packaging and marketing under its brand of virgin olive oil Extra CODEGENIL.
In the case of table olives, once the collection is made from olives firing and subsequent treatment for the successful fermentation end thereof. Once it has fermented olives comes to your selection, and then sell them for under their brand PEARLS OF GENIL.
The extra virgin olive oil comes from olives CODEGENIL Bridge Genil, villa which was granted on 15 October 1935 the special title of "Optimi Olei Emporium" (The best oil in the world), due to the high quality of oils produced in this area. Today, still holds this title in Genil Bridge shield.
This oil is made from olives Hojiblanca selected according to quality. The process begins in the field with a careful collection of the olive tree as the degree of maturity. Subsequently grinding is performed on the same day of collection for an extra virgin olive oil with high organoleptic qualities (taste and smell).
This extra virgin olive oil is subsequently packaged for marketing.
The extra virgin olive oil is a healthy, natural and nutritious and is recommended for use to flavor salads, raw to toast to flavor meals, etc.